Cobblestone
Edit
Cobblestone was the very first block to be added into the game.It can be obtained by mining stone with anykind of pickaxe.It is very useful in the game and is used to make the 3rd best tools and weapons in the game.It is used for many crafting recipes.Ghast explosions cannot destroy it and has a higher blast resistance than dirt,but it still can be destroyed easily by creepers and TNT.Cobblestone can be created when water runs into lava.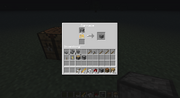 Ad blocker interference detected!
Wikia is a free-to-use site that makes money from advertising. We have a modified experience for viewers using ad blockers

Wikia is not accessible if you've made further modifications. Remove the custom ad blocker rule(s) and the page will load as expected.