Xbox Minecraft
Edit
Xbox 360 version of MInecraft is made by 4J Studios in conjunction with Mojang and Microsoft Studios.This game was announced at 2011 E3 by Notch.I was priced 1600 Microsoft Points at the Xbox Live Arcade.It has a simple crafting systemIn game tutorials,and Local or Online Multiplayer.Updates are free of charge and is much like the PC version.There are achievments for the game with survival and creative modes.The current version for this game is 1.1.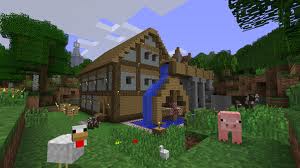 ver 1.1 - Jul 13 2012
New Features:
Added Character Skin Selector to allow players to choose their skin from the default skins, or from downloadable Skin Packs.
Added lighting improvements (brought forward from 1.8.2 update) and snow & rain improvements.
Added a save file cache to improve the speed of displaying the saves list.
Added ban list functionality to allow players to self-ban from levels they feel contain offensive content.
Added a ban list section to the How To Play menus.
Added an option for the host to limit online games to only players in their friends list (no friends of friends).
Added a seed display to the level load screen (requires existing levels to be saved out again to add the display).
Changed the tooltip display setting to in-game tooltip display, so that tooltips always display in menus.
Added the crosshair to the list of things affected by the opacity slider.
On using the quickselect bar, the opacity of the quickselect, tooltips, splitscreen gamertag display, and crosshair will be set to 80, and will fade back down to the user opacity setting after 6 seconds of no quickselect bar use.
Added some more Tips & Trivia to the loading/saving screen display.
Added the new textures for cooked porkchop and dispenser that were added in Beta 1.8 and 1.2.1 respectively. [1] [2]
Added rigged lines in iron blocks,[3] and minor changes to other ore blocks added in 1.0.0.